There are many words to describe India but perhaps the best one is 'experience' and there are few countries which offer so much for the visitor to experience.
From Kashmir in the far north, with a climate very similar to the UK,  to tropical, Kerala, with its palm tree lined beaches and fabulous seafood, in the south, each and every one of India's states and regions offer the visitor a variety of experiences. Known for its ancient cultures and historical significance, India today is a vibrant and flourishing country.
The many changes which have taken place in Indian life mean that everything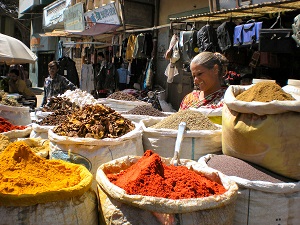 one expects from a modern country can be found there. Modern hotels of the highest quality abound in every large city, elegant shopping malls have been built which rival those found anywhere else in the world, but the old local markets are there, too. Raj era architecture and ancient temples, fabulous palaces in town or far deserts, all are there for the visitor to experience.
Alongside the modernity, an older India still exists and can be experienced and appreciated by the visitor who is prepared to seek out places which are not always on tourist itineraries. Old parts of cities can be explored during a walking tour – one of the best ways tosee the local life of real India.
Indian food is known and enjoyed throughout the world, but tasting India's varied cuisines, prepared in traditional ways often using the ancient methods, is an experience to be savoured.
Wildlife too, abounds in every region, from the largest of the carnivores, including the rare Asian lion and the tiger to wild asses , one horned rhinocerous, river dolphins and an abundance of birdlife, everything India has to offer can be seen during a specialised tour.
A cruise along the Ganges is a great way to experience village India.
There's so much, but only an experienced tour operator can help you experience the best of India.
Join us on our 8 Night tour, "Beyond the Taj Mahal," perfect for your first visit to India.
Book with : NEIUK
Phone Number : 01269 823355
Email : enquiries@neiuk.co.uk