A nation like no other, Scotland is small in stature but overflowing with a unique character; fewer countries of this size can offer as many globally recognised national icons, whether it be the highland cow, the tartan kilt, a scotch thistle, the tune of the bagpipes or a dram of malt whisky.  Scotland's geography is equally iconic, an enchanting blend of remote highlands, heather-strewn glens and mist-covered lochs; landscapes where natural wildlife thrives and the hills are studded with ancient castles and historic ruins.  To experience Scotland is to enjoy an unforgettable feast for the senses.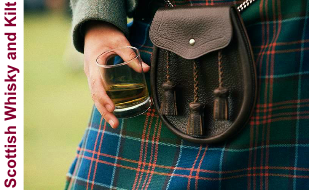 Heritage and Culture
The Scots, with their strong (and sometimes unintelligible) accent are renowned for being a stern and dour people, but behind this facade they hide a sharp, dry wit and offer an unrivalled hospitality and warm welcome to visitors.  Food and drink play an important role in this hospitality; in Scotland you'll dine on hearty offerings including quality Aberdeen Angus beef, hearty Scotch broth, or the national dish, Haggis.  To be followed, of course, by a nip of the national drink, scotch whisky (or "Water of Life") distilled throughout the country but renowned internationally.  The Scottish people love their sport from the raw energy of a traditional Highland Games event to a more refined pursuit such as a round at the world's home of golf in St Andrews.  The zenith of Scottish culture, however, is surely the annual Edinburgh Military Tattoo and Festival, a world-renowned and truly magical celebration of Scottish heritage and her place in the world.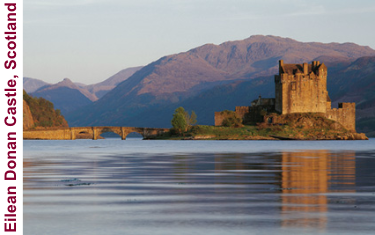 Nature and Landscapes
Physically, Scotland is a vast wilderness waiting to be explored.  Making up more than a third of Britain's land area, but less than a tenth of the population, vast areas of Scotland remain unscathed and sparsely populated leaving it for nature to shape at her will.  Frequently overlooked by visitors, the borders region (or lowlands) provide beautiful views of undulating hills and lush valleys studded with historic border forts and Abbey ruins; a region which provided inspiration for many works of national poet Robert Burns.  It is, however, the raw and rugged Highlands and Islands which offer the more dramatic of Scotland's landscapes.  Awe-inspiring in their untamed beauty, Scotland's Highlands and Islands offer sweeping, untouched bays, rocky cliff faces, heather-swept moors, striking mountain ranges, deep forests and glassy lochs not to mention Britain's highest peak (Ben Nevis) and deepest waterway (Loch Ness).  Natural wildlife thrives in these remote regions from wild deer and an wealth of birdlife inland, to whales, porpoise and seals in the coastal waters.  Breathing the fresh air, experiencing nature in its rawest forms and seeing wildlife in its natural habitat is all a standard part of any visit to Scotland.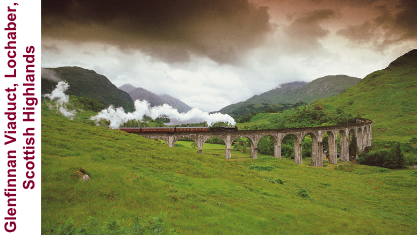 Beautiful Cityscapes
Scotland's urban areas can be equally impressive.  Edinburgh, the Scottish capital has an iconic skyline, dominated by her castle perched high above the city overlooking the Princes Street Gardens, the Royal Mile and the Old and New Towns which are recognised as World Heritage sites.  Both history and tradition resound, however the contemporary is not lost with politics and culture alive and kicking in Edinburgh which is home to the Scottish Parliament and one of Europe's largest cultural events at the annual Military Tattoo and International Festival.  Hot on Edinburgh's heels, Glasgow has a larger population, a long history and a striking resurgence in recent years; Scotland's most populous city is home to stunning architecture, an excellent shopping and commercial scene and a vibrant nightlife and pub culture.  Also not to be missed are historic Stirling, Aberdeen's "granite city" and capital of the highlands, Inverness.
Whether you visit Scotland for the history of her cities, to enjoy the glorious vistas and nature of the Highlands or simply to soak-up a truly unique culture and heritage, a visit to this country will be truly unforgettable and unlike any other.
For cultural and heritage self-guided rail or car tours and escorted small-group or coach tours of Scotland contact adeo Travel, Britain destination specialists:
www.adeotravel.com
info@adeotravel.com
Tel: 02921 660 747
Toll-free from the US/Canada on: 1-866-209-4554